Why do people say 'no' to a transplant? Understanding patient decision making and choice. An update on Emma Jones' Research
Emma is a renal nurse and has 21 years of nephrology nursing experience, having worked in Betsi Cadwaladr University Health Board as a clinical nurse specialist in pre and post renal transplant nursing, home haemodialysis and peritoneal dialysis, and as a haemodialysis nurse. Emma has a Diploma in Renal Nursing, a BSc Specialist Practitioner Renal Degree, and an MSc in Advanced Clinical Practice.
Emma is currently undertaking her PhD at Bangor University, exploring how people with kidney failure make decisions about kidney transplantation and their experiences of declining the opportunity of having a kidney transplant. Emma is passionate about renal nursing and providing exceptionally high-quality care, and progressing the provision of services that are equitable to all kidney patients and their families. She is particularly interested in patient choice, decision-making, and shared decision-making.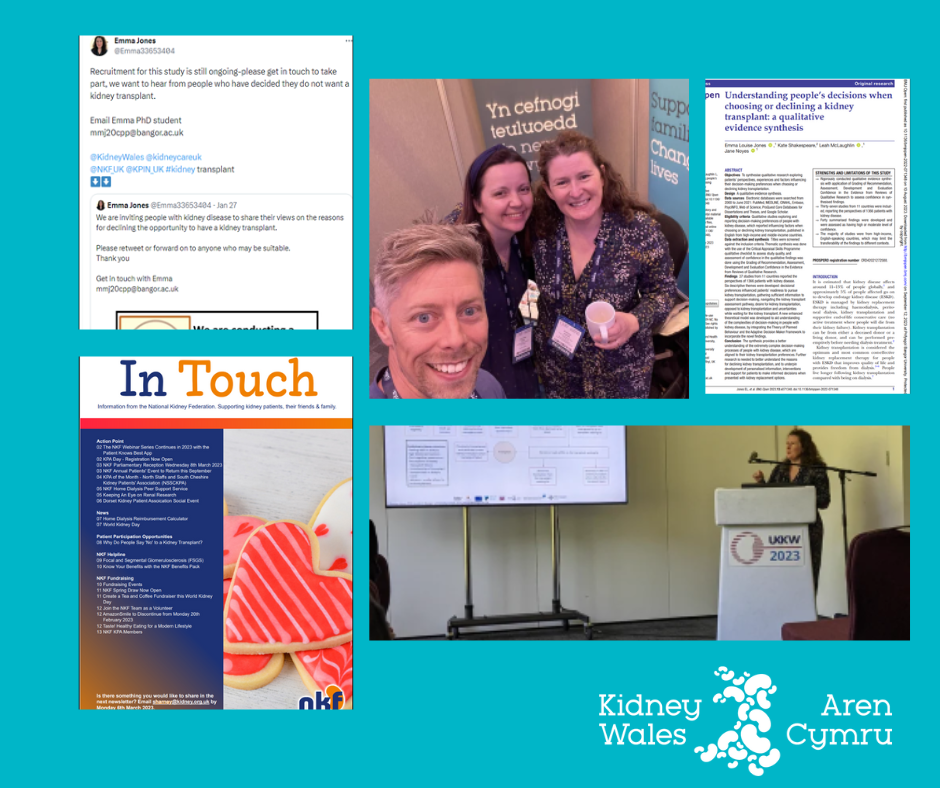 An update from Emma…
Where am I currently with my research?
I am now in the final stages of writing up my research study findings, and the project is coming towards the end of completion.
I have interviewed and collected data from 30 people who shared their experiences of kidney transplant decision-making, and reasons why they did not want to have a kidney transplant. People from Wales, England and Ireland were included in the study, and were recruited through their kidney teams at participating NHS Health Board sites, or through responding to the study advertisement.
Kidney Wales shared the study advert through their social media channels, Kidney Patient Involvement Network (KPIN) shared the advert for the research involvement opportunity, and the National Kidney Federation (NKF) shared the advert in its February 2023 In Touch Magazine.
What opportunities have I had to share the research?
I have presented the research findings at this year's national UK Kidney Week conference at Newport, and will be presenting at this year's Wales Kidney Research Unit Annual General Meeting and the international EDTNA/ERCA (The European Dialysis and Transplant Nurses Association/European Renal Care Association) conference being held in Vilnius, Lithuania next month.
My supervisory team at Bangor University Professor Jane Noyes, Dr Leah McLaughlin, Dr Kate Shakespeare and I have published a Qualitative Evidence Synthesis published in BMJ Open. The full publication will be published next year.